BASHER BAILEY

We had occupied the hill at first light, after a long climb from Zubza valley and after no more than a skirmish with the retreating enemy. We were dug in on the crest with 7 platoon forward. The Colonel wanted to pull 7 platoon back from beyond the crest, but the ground was too hard and it was too late in the day to dig new trenches under fire.

That night as darkness came and we sorted out the stags for the night, I was to follow George on the Bren at 04.00 hours. I took over and handed my rifle, as was the practice at the time, when relieving guard.

When I was relieved at 06.00 hours, I learned that Bailey had buggered off with my rifle to recover his own from where he had left it at "B" Company the night before. Bayonets were fixed at dusk in those days and all I had left Bailey's machete and grenades, but too risky to our forward platoon.

It was just 24 hours since we had arrived on the hill and as I dropped into my narrow "grave", or slit trench, the signs and sounds of dawn were unmistakable. Out there the chirping and croaking of the dawn chorus start as if by a given signal and cease just as abruptly at dusk. I was hoping against hope that it wouldn't happen, not 'till Bailey got back with my rifle for Christ's sake. I shut my eyes in an attempt to snatch a few minutes rest before the whispered "Stand to" brought every man to his feet. But the next sound I heard put me in the grip of stark terror. A mixture of blood curdling screams, blasts, shouts, machine-gun fire and moans filled me with a sickening fear I had never known before. I was a coward! I peeped over the parapet.

Silhouetted against the sky, fifty yards ahead, 7 platoon was in hand-to-hand combat. I could see blokes going at it with bayonets and Jap officers swinging their swords. .END OF 341 WORD SAMPLE OF 615 WORDS.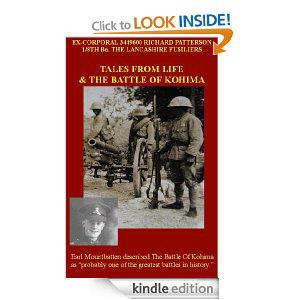 CLICK ON PHOTO TO GO amazon