CAPTAIN

Its odd that I never found out why they called him Captain, because I remember thinking that night we met, "Its a queer nickname for a fusilier."

I had recently joined my old battalion with a batch of re-enforcements the day before, and had been detailed this Saturday night to replace a sick member of the Battalion. The guard had already mounted, when with the make-up, I entered the guardroom at Thwaite Hall Cottingham, Hull just before Xmas in 1941.

When I entered the guardroom it must have been late on, because the off duty men were asleep. The guard commander said, "You're on the ten-twelve-four-six stag with Captain. "Captain," I said. Yes thats him in the far corner. I looked across the group of bodies on the floor, I saw a huddled form completley covered by an army blanket.

There wasn't much room to kip down so until ten o'clock I passed the time, smoking and wondering what kind of "Oppo" I would have to accompany during my periods on stag until 6am the following day.

Guard duties by this time had become a very tiresome and boring routine, which could be either intensified or alleviated by the character of ones "oppo."

This battalion, which I had joined at the age of seventeen in 1939, had been decimated in France and I was finding it a search to track down any of my old pals of two years before.

Just before 10pm I picked my way between the sleeping men and shook the shoulder of the man in the corner. The face revealed ..END OF 264 WORD SAMPLE OF 566 WORDS.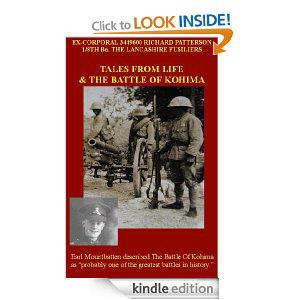 CLICK ON PHOTO TO GO amazon