TALE OF THE MARBLE CHURCH

I was cycling from Abergele to Rhuddlan on a sunny afternoon in 1948, when across the fields to my right I first saw the spire of the church at Bodelwyddan. Bright fawn marble, lying against a cloudless blue sky. Such a peaceful afternoon, and then my mind wandered back; back to Khadakwasla, India 1942. I was on roving piequet guard on the lights out turn, when my oppo asked if I ever passed the time on "stag" by listening to the bedtime conversations in the bell tents.
We paused behind a tent and listened to one voice as a bloke was telling his mates about this "marble church" near Rhyll. The bloke telling the tale was a signaller named Dick Hynes, and I imagined myself standing outside this church as he was telling the story, and deciding there and then to look up the place on my return. He spoke of rows of Canadian graves, of soldier's killed in a mutiny at Kinmel camp after the first World War, and said that officially they had died in the flu epidemic of 1918.
Well here was I, at Boddelwyddan, stood amongst the Canadian gravestones and thinking back to the day we buried Dickie Hynes in Burma in 1944.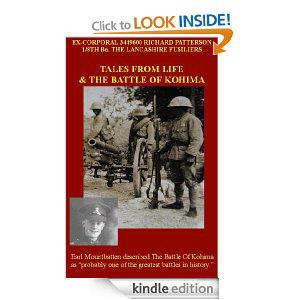 CLICK ON PHOTO TO GO amazon