TOJO (1943)
He had been dubbed Tojo because he was short and ferocious. When he was around, no one was relaxed; to us he was almighty.
One day at dawn in 1943, off the South West Coast of India, after scrambling down rope nets into landing crafts, we were about to leave our R.N. training ship "H.M.S. Karen."
The sea was choppy, and a huge sailor above, using a barge pole, was attempting to push us away from the trooper.
All was quiet in the boat until someone at the back started to retch and was sick.
Looking down, the sailor bellowed indignantly, "You dir-ty little bastard, -You'll be shitting in it next!"
Half turning, I was surprised to see that the subject of his disgust, was Tojo, our Regimental Sergeant Major.
We struck the beach and the ramp crashed down. As we fanned out there was a lot of tittering and someone chuckled, "You dirty little bastard...."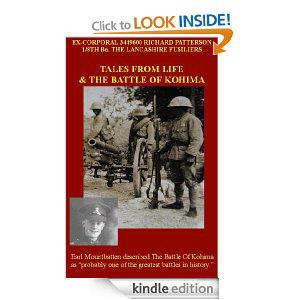 CLICK ON PHOTO TO GO amazon