GEORGE an'

CHARLIE

At the end of 1941 I went with a draft of about fifty men to make up a unit which was going over seas, that was a different battalion to the one I was in. It was the original Battalion I had joined when I was seventeen. They had gone to France in 1940 when I was under age, but I was always anxious to get back with them. So when I got this chance, when I saw the notice on the board that they wanted volunteers to make them up, I put my name on the list.

At the time we were billeted in Berkshire, in an old country house about three stories high. I was up on the top floor. There were no lights there, apart from oil lamps. Everyone was walking around with little oil lamps. In the passage way one night, the Sergeant Major met me and said, "Oh by the way Patterson, am I mistaken or did I see your name on the list for a posting to the 8th Battalion?"

"Yes that's right sir," I said,

"You know they're going abroad?"

"Yes I understand that sir."

"I thought you had more bleedin' oil in your can that that." I'm just telling you that to illustrate the types there are. Not only in wartime, not only in the Army, you meet them all the time. They're bloody 'go getters'. That fellow was a Sergeant Major. On the face of it he's supposed to be a leading light in the fight against the enemy, the bloody Germans, Japanese and the Italians as it was at the time. All he was thinking about was him self. This Sergeant Major was looking down this nose at me in effect. He was saying, "Well you bleedin' idiot." On the face of it, they are all 'brass buttoned and bulled up', they look the part, but underneath there nothing of the sort.

I went with this draft to the 8th Battalion. They were stationed near Hull at the time. A little place called 'Cottingham'. I think Cottingham is the largest village in England. I had to report to a Sergeant named Blackshaw.

I went to the parade ground when I arrived there, looking for this Blackshaw. There were quite a few Bren gun carriers lined up. I approached one of the carriers. There was a bloke stood up in the front of the carrier. I learned later his name was 'Horace', but you couldn't judge him by his name. There was nothing 'Horracy' about him.

"I'm looking for a Sergeant Blackshaw," I said. He pointed across to where there were a couple of blokes stood. (The taller bloke I noticed was a bit round-shouldered, which was unusual, because there weren't many round shouldered blokes in the Army, especially Sergeants.)

"That's him, George an' Charlie," he said.

" George and Charlie,"

"Aye, that's George and that's Charlie on his fuckin'back."

I didn't have much more to do with Blackshaw after that, until we got to Kohima. I remember we were on a hill known as G.P.T. Ridge. We withdrew from this hill, but nearly a platoon of us were left as rear guard, while the rest of the Battalion got off the place. George an' Charlie was left with another Sergeant in charge of this rear guard. We were split up into two parties. When we went down the hill it was dark. Blackshaw and the other Sergeant had been on a recky in day light that afternoon, to find their way back. They had a map and somebody showed them the way back to the main road, which was the main Kohima to Imphal road.

We set off in the two parties. They stopped that often arguing about which was the right way that the blokes got feed, up we were all tiered. You don't get much bloody sleep. I noticed some old Japanese trucks by the side of the track, there were to or three of them. They were the old style, large trucks, thirty hundred weight. They had the long running boards and large mudguards at the front, so I seized the opportunity while they were arguing and everybody was stood around not knowing which way to go; I lay down on this running board, I put my pack up under my head and dozed off.

I don't know how long I'd been asleep but someone gave me a nudge and said, "Come on, were moving." Not long after we came to a 'T' junction in the track, these two silly buggers started arguing again. One thought left the other bugger right. The other Sergeant took half of the platoon to the left. George an' Charlie took us to the right. (George an' Charlie was right in the end.)

We followed this track down for a while,.. END OF 810 WORD SAMPLE OF 1,409 WORDS.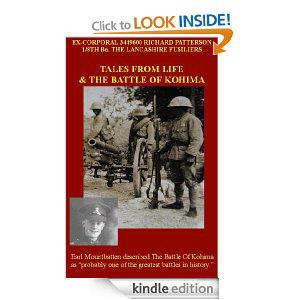 CLICK ON PHOTO TO GO amazon